Fortuna's Row Brunch & Supper Club
An airy, industrial take on contemporary Latin American cuisine.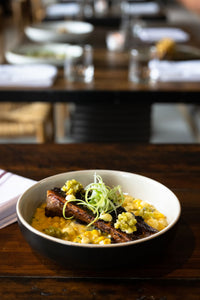 A journey through Latin America
Concept
Fortuna's Row is a 10,000 square foot Contemporary Latin American Supper Club. Situated on the Riverfront between Chinatown and East Village, Fortuna's Row offers a one-of-a-kind experience in the city. Airy and beach-inspired fixtures with rich wood finishes complement lush, live plants in a towering concrete warehouse that transports guests far south of the border without ever leaving Calgary's city limits.
Features
Fortuna's Row promises more than fantastic dining. A plush, 20 seat private dining room is nestled adjacent to the dining room, with direct access to the kitchen for the Chef to interact directly with guests. A sleek and stylish cocktail bar playfully dubbed 'Standing Room Only' is connected to the restaurant, forming a multi-stage experience, inviting guests to step away from their lives into a fantastical, all encompassing tour of Latin America through taste, space, and service.
Story
Fortuna's Row delivered a finely tuned and exquisite depiction of the abundance of Mesoamerica. A fresh and exciting take on the regional and historical ingredients and preparation techniques, we are proud to take our guests on a culinary journey designed to delight the senses and envelop the mind. We promise Fortuna's Row is unlike anything else you've experienced...
"A truly immersive and innovative experience from the moment you walk through the front doors. The modern, stylish, fresh and open space of the cocktail area, and the vastness of the dining room is inviting. The drinks are innovative and simple, with a focus around one key ingredient, my favourite was the white chocolate. Each dish we ordered was presented outstandingly, and all are great for sharing. My favourites are the esquites, and arepa."
"Fortuna's Row is an undeniably stylish addition to Calgary's restaurant scene."
"A true treat for the senses! Creative and thoughtfully crafted plates, perfection in every bite. Incredible service and vibrant ambiance. Makes it to our top #1 favorite dinner spot."
Experience Fortuna's Row
Journey through the towering Supper Club that sits just south of Calgary's riverfront.

Build with us
We're constantly developing, evolving, and working on new projects. If you are looking for a hospitality experience and would like to partner with us to develop a bespoke concept for your space, we'd love to hear from you.