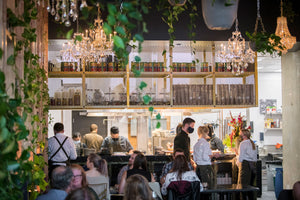 Thoughtfully engineered, bespoke concepts that are built to thrive.
Building with Syndicate
Syndicate has taken a purposeful approach to building bars and restaurants in collaboration with the individuals and companies that own the properties they operate within.
Our team works with these partners to develop industry-leading, standout hospitality concepts that are design-built to capture guest's attention and imagination. These concepts stand the test of time, driving consistent returns and performance long after their launch for both the operator and property owners.
Why hospitality
The future is experience-driven. By applying proven design frameworks, creative problem-solving and a thoughtful, data-driven approach, our team delivers complete, experienced-focused hospitality concepts that:
• Increase asset value and N.O.I.
• Act as a beacon for other pospective tenants
• Serve the communities they exist within
• Anchor and promote the venue they reside within
• Operate as a reliable and consistent long-term partner
Our approach
A Unified Value Proposition
From high-rises to standalone heritage buildings, from retail blocks to independent kiosks, Syndicate develops with our partners and the community in mind. Developing a F&B experience as an integrated value offering, not only provides cost savings and optimizes project timelines, but provides a unique opportunity for industry-leading, bespoke hospitality experiences.
Custom Tailored Solutions
By working in tandem with our partners, we can define, design, and deliver highly customized hospitality concepts that serve to enhance and represent the properties, buildings, and communities they exist in. Leveraging deep expertise and a history of success at Syndicate, we actively seek opportunities to collaborate with property owners, landlords, building developers, municipal governments, and community planners to create hospitality experiences in a streamlined and focused manner, all while improving asset value and N.O.I. and reducing third party costs and leasing challanges.
Nose-to-Tail Management
SHG thrives on creating bespoke hospitality experiences that are distinct, memorable, and sustainable. Specifically, we develop solutions that:
• Reduce long term landlord risk
• Work collaboratively with the landlord and space
• Utilize experience, empirical data, and economies of scale
• Are trend-conscious and audience-aware
• Have a past record of success
Build with us
Complete the form below if you would like to learn more about the process of working with Syndicate and how we work with our partners.

Our concepts
From intimate cocktail bars, to dreamy restaurants, thriving supper clubs, to takeaway ice cream spots, we continue to evolve what F&B is capable of.