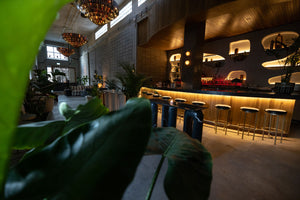 Standing Room Only
A cocktail bar residing in a towering, earthy industrial space.
Cocktails and organica flourish in raw space
Concept
Standing Room Only (SRO Bar) merges raw stone with budding plantlife to create a gritty, out-of-Calgary experience that brings visitors into the beating heart of a thriving Latin metropolis. The space was developed to span the gap between a relaxed cocktail bar, and a private event space able to feature DJs and live entertainment. An arched bar extends into the long corridor-like space, underneath a towering 24' ceiling with custom-made chandeliers beaming amber light over guests enjoying house-made cocktails.
Features
With a premiere cocktail menu built on individualized flavours, SRO Bar focuses on quality above all else. Guests enjoy balanced and well-made cocktails in lux, relaxed seating. A special set of playlists composed exclusively for SRO Bar set the scene for a memorable evening.
Story
Built as part of Fortuna's Row, SRO Bar retains a distinct atmosphere and vibe from its sister restaurant. It's multi-use space has given the room an exciting and varied history, acting as a landmark for events, special occasions, and unforgettable nights.
"Went for cocktails here. Absolutely incredible. The ambience is super cool. Very tall ceiling with old windows. Music was bumping. Will be back for more cocktails!!!"
Experience SRO Bar
Explore the truly unique space that is Standing Room Only.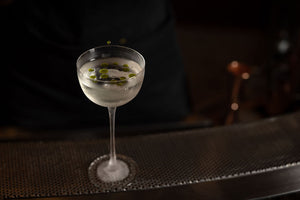 Build with us
We're constantly developing, evolving, and working on new projects. If you are looking for a hospitality experience and would like to partner with us to develop a bespoke concept for your space, we'd love to hear from you.