Orchard Restaurant
A lush dining experience in the heart of the city.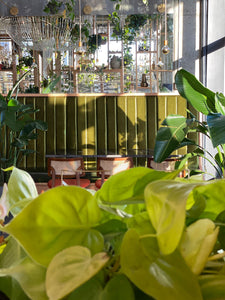 Abandoned beauty in an urban landscape
Concept
Orchard Restaurant is an elegantly casual restaurant and bar located just south of Calgary's downtown core on 10th Avenue SW. The location offers a warm and accessible experience that evokes a sense of Western European hospitality which prioritizes guest satisfaction above all else.
Features
With a food menu that elevates modern European cuisine and a drink program boasting Shelter Bar's expertise, Orchard provides guests with a distinct experience not available anywhere else in Calgary. The restaurant's vegetable-driven cuisine will appeal to a wide variety of eating styles.
Story
Through forward-thinking design, and precise concept execution, Orchard became Calgary's hottest restaurant, booked out weeks in advance during the peak of the COVID-19 pandemic. The restaurant put SODO (the building) in numerous publications, and helped increased building occupancy by acting as a beacon for prospective tenants.
"Let me say that I used to be in the hospitality industry for a long time and have had my fair share of experiences around the world. This was by far and away one of the smoothest customer service experiences I have had. The food was top notch, the cocktails were brilliant and the company I had, even more so. One of the more unique dining experiences in Calgary. Love it!"
"From the moment you walk into the place you know you are about to experience something special. The decor in this place is very eye catching and you can tell they spent quite a bit of time thinking about it and planning. Whoever owns/manages this place can definitely add "attention to detail" to their resume as everything is simply perfect when it comes to the place itself."
"Absolutely stunning! From the food, to the walk into the restaurant! As you stroll in; your transported to a unique, and breathtaking environment. Orchard has truly mastered what it means to bring fresh local ingredients to life on a plate. I highly recommend this institution to anyone looking to experience what it truly means to dine in Orchard."
Experience Orchard
Tour and explore the lush escape that is Orchard Restaurant.

Build with us
We're constantly developing, evolving, and working on new projects. If you are looking for a hospitality experience and would like to partner with us to develop a bespoke concept for your space, we'd love to hear from you.